on Wed Oct 11, 2017 9:59 pm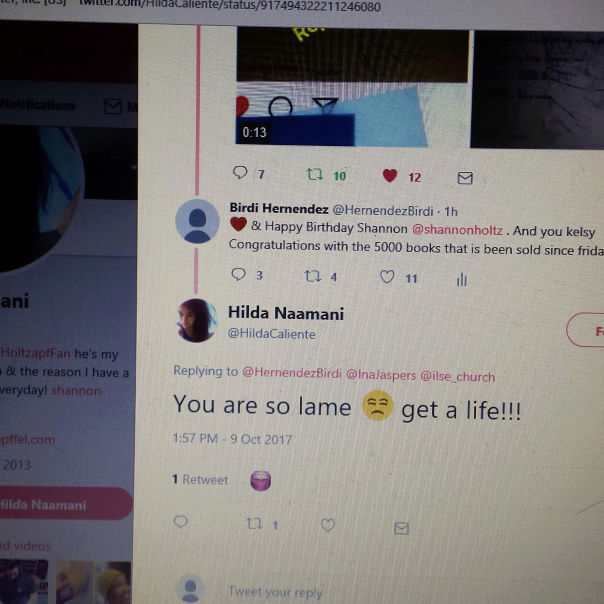 Shannon Holtzapffel – Hilda Namaani, Liam Gibson's bully! I Despice you! Got ya! Proof!
In my previous blog post (as Liam always called it) I told you all that my family, friends and myself are constantly bothered by many and many fake accounts made by two people. Today, a blog post has come online from Liam himself, which he fixed at exactly 24:01 hours. This was a birthday blog from Liam to Shannon.  I did not know that this blog existed otherwise I would have resisted this.
Anyway….
Me and  only me have posted this letter on my Instagram in  a message containing the letter that I hold. I also shared this on my OWN Instagram and Timeline, WHY NOT RIGHT? People have seen it because my  Insta Story is just visible to everyone.  And so people put the post in a tweet and shared this  on Shannon's Twitter. I suppose there's nothing wrong with that? Liam always had many friends who supported him even when he was ill. This letter, which Liam wrote, they just wanted to shared it with Shannon. And WHY NOT? But I just think it's ridiculous that if that happens, ( again,)  that same person will put things like tweets under messages and then removed them  again because there's  a change someone will let Shannon know about this. Like TODAY. But Sweety I was quick enough to make a screenshot myself. So I decided to post this screenshoton here , on this blog. I did not mention your name in my previous message but you knew I was talking about you. I do not know what's happening to you but girl you're sick and you really need  help! This behavior is no longer normal. How can you be so jealous of a boy who is not there anymore? Liam CANT HURT YOU HILDA! Stop doing these bad things. Stop sending messages to people who sending Shannon tweets about Liam and then remove them again when someone confronting Shannon about it by retweet the tweet. You have so many accounts and jou bothering people with it.  Stop bullying Hilda! This screenshot is the proof of who you really are as a person!
Liam was a real boy. I'm a real person. My friends and family are. But what you are? I know you must be sick for doing things like this? Are you really such an attention seeker Hilda? Do you not get enough attention from Shannon? What is it? Please tell me? Maybe We all can help you. I advise you to seek help. I doubt whether you are a true fan and not a disturbed sick mind? You are really a sick girl! You need to drop this and Leave me and my Family alone! I have already told you in my previous message that none of my family and I  don't follow Shannon on his social media. Why NOT? Because of YOU! I don't  care if Shannon gets angry with what I'm putting down here, but there's evidence that you're a TROLL Hilda Namaani. You're a real bully and a very very sick girl!
Oh and Hilda It's true, Liam's book has been sold more than 5,000 times since last Friday when it came out. Can you imagine how many  sick kids can already be helped with this money? Stop the jealous hassle and get a life!
See Screenshot of Hila Namaani Her tweet she posted under a message today on Shannon Holtzapffel his Twitter
SylviaHasselt

Posts

: 5


Join date

: 2017-10-11

on Wed Oct 11, 2017 11:11 pm
Did you read all the messages on this post on the website? Its more then 100 messages!
SylviaHasselt

Posts

: 5


Join date

: 2017-10-11

on Wed Oct 11, 2017 11:12 pm
Sad that she put her Instagram and twitter on privet! STUPPID TROLL
PresleyNose

Posts

: 5


Join date

: 2017-10-11

on Wed Oct 11, 2017 11:38 pm
Love the FACT that Shannon let the tweets with the link on his Twitter feeds. Its still there for evryone to read! I loive this Forum BTW... Only members can post messages here.
LeviSantos

Posts

: 9


Join date

: 2017-10-11

on Wed Oct 11, 2017 11:54 pm
I keep you posted on what she post on her Twitter page. Im still following on there so even her account is on privet I still can see her tweets! That stuppid bitch! TROLL!!! I also can make FAKE TWITTER ACCOUNTS HILDA THE TROLL!!

Permissions in this forum:
You
cannot
reply to topics in this forum